Greece 2013 – Athens & Crete
A glimpse into our trip to Greece in April. We arrived in Athens in the evening. We found our hotel and a surprisingly delightful restaurant nearby. It looked and sounded like a tourist trap, Alexander the Great restaurant, but turned out to be great.  Since we were going to be in Athens for only one full day, it was going to be packed full. Jeff & the kids hate this kind of traveling, but I reminded them, it was just one day. Jeff found us a local place with fresh yoghurt covered with walnuts and honey.  I was in food heaven.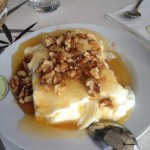 Then armed with a downloadable audio guide for the city of Athens, we selected a walking tour from several options in the audio guide, and made our way though the city center, by some lovely churches and amazing ruins.
Then up the Acropolis (hill) to see the Parthenon. The audio guided walk led us through a series of wonderful narrow paths lined with white washed building and lots of roaming cats.  Eliana must have taken hundreds of photos of cats.
The problem with crash course sight seeing is that the (my) brain is quickly exhausted and thus tells the body it is exhausted. I wanted to listen to all of the audio guide and read all the signs, but I was overwhelmed so we mostly just walked among the buildings and enjoyed being in their presence. We took in as much as possible then made our way back to the hotel. Where we allowed ourselves to be suckered into a tourist trap dinner at a seaside restaurant. The best part of the dinner was that I got a few good pictures of the harbor at night. I had to take a picture of the modern traveler's computer spaghetti. Computer, layered with ipad, layered with phones.
All in all, I am glad we went to Athens, but it is a tired city. The poor city has been beat up by war so many times that is just looks tired. Lots of grey concrete, buildings riddled with bullet holes, and struggling little trees next to graffiti covered walls (Emeline & Eliana are sitting on top of cubes). But with that said, there is amazing history everywhere. Many of the old streets use white marble to create the lines down the road and don't forget the food.
The next day we were off on a small plane to Crete, the largest island in Greece and closest to Africa and thus prone to very warm weather. Which was good as we were a little early for the "summer" season. The resort was just opening for the summer as we were there. Each day more deck chairs came out and shops opened for business. It was very windy on several days and not really warm enough most of the time to make swimming enjoyable, but it was a lovely resort that catered to families with an all you can eat kids zone from 11 am – 5 pm, with activities such as table tennis, football, archery etc.
We ate, relaxed, explored the island and ate and relaxed some more.
One of the highlights was going to Knossos.  This ancient palace would have been to the Romans as the Romans are to us.  A civilization that was well structured thousands of years before them. They even had a plumbing system where water would flow through the "toilet". Amazing! The place was really big.
Jeff and I made a valiant effort at running and despite a couple of days of being sand blasted we did pretty well.
Have I mentioned the food?  I met a couple of nice families from England that were also having a holiday there. One family has invited us to their farm in Western England near the lake district.  We are going to be going to visit them later in August.
---
Categorised as: Uncategorized
---