A Day Out – Goldhawk Road, Shepard's Bush, London
I have been searching for the fabric mecca of London since arriving here in November of 2011. Nearly a year later, I have found it. It is called Goldhawk Road at the end of the Shepards Bush Market.
From South West London, I take the Northern Tube line to Stockwell station, change to Victoria Line to the Victoria station. Get on the District Line to Hammersmith Station and switch to Hammersmith & City Line for one stop to Goldhawk Station. It sounds complicated, but only took about 40 min from my flat.
I have found many beautiful fabrics in London. I seen wool, linens, cottons and silk and a lot of rubbish. However I have been looking for the textile/fabric stores that will allow me to make things at a reasonable price. If I get organized I will do some other "Day Out" posts to tell you about the Berwick Street shops, Portobello Road shops, Brixton Market, Brick Lane, Columbia Road, the Button Queen, and a few other discoveries. However most of these were just too expensive. The fabrics were glorious but just too pricy for my wallet.
I've been looking for some wool felt in a natural color to make holiday ornaments and some silk to make a simple nightgown. You would think this should be fairly simple. However I would either find places that had amazing silk but it was £47 per metre, or I'd find a place with no natural fibre textiles at all, (ie everything was £3 metre.
Today I found everything and you don't have to look very hard once you get off the train at the Goldhawk Station.
1st Stop –  A-Z Fabrics.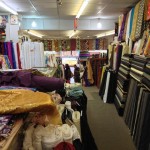 Well stocked, three floors, very helpful. I found stretch knit fabric (£4 m) to make baby wraps for a friend who is due at the end of the month. I also found my wool in a lovely off-white (£12 m).
Lesson #1 Negotiate on price, there is some flexibility in most of the prices.
2nd Stop – Toni Textiles
My girls are going to a Girl Guides and Brownies sleepover this weekend and need something to wear for "Disco Night", so I got some sparkly fabric (£2 m) in blue and pink. They had a selection of silks. I didn't buy silk right away as I seem to be buying stuff at an alarming rate considering there were at least six more fabric stores within a one block space.
Lesson #2 What is Muck?  Muck is a fabric used for trench coats. It has two layers of cotton with a water proof layer fused into the middle of the cotton layers. Can be had for about £15 m.
3rd Stop – Fabric World
Lots of sequins and sari stuff, not what I was looking for. Thank goodness. As my husband says, the second best answer is,"No." This store I can take off the list.
Lesson #3 – Most shops are staffed by men and as is the case with most of London there are a variety of accents to decipher.
4-6th Stop – I cross the road and stop into 3 more textile/fabric shops. However, at this point I cann't process the fabrics or the prices because I am hungry. I ask the shop guy for a suggestion of a good  vegetarian food. A lady behind me informs me that the Shepard's Bush Market has great falafels. Perfect. I am on my way.
Lesson #4 – Smaller shops give really good food suggestions for lunch. They usually know the close, inexpensive and good food places. Wait til I post about by Day Out on Brick Lane and the Beigels (AKA: Bagel).
7th Stop – Falafel Hut in Shepard's Bush Market, near the Goldhawk end. Perhaps I am just really hungry, but the falafel is fantastic! They warmed the falafel, then added aubergine (AKA eggplant), tahini sauce, yogurt sauce, tomatoes, lettuce, pickle slices and I decline the pepper sauce. It was only £3.50 and Oh So Good. I don't even like eggplant. But if I get to go try it again I will get the eggplant again, it was fantastic. I can't wait to take Jeff there to try it out, as well as the girls.
Lesson #4 When you are overwhelmed, eat. It makes everything better. 🙂
Now I am fully committed to exploring the Shepard's Bush Market. If you are not familiar with the London Market scene, it is a bit like a cross between a farmers market, a flea market and a craft fair, in the USA.  The stalls are set up daily and taken down every evening.  Some are only on weekends but many are open all week long. Lots of stalls selling everything from fresh ginger root to hair dye for you roots. To me there seemed to be an awful lot of stalls selling ladies night gowns and under garments.
8th Stop – Stall with no name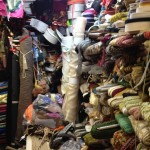 Off the main road on my left was a walkway with more stalls.  I adventured down into the bowels of the market.  I think this is considered the "New Shepard's Bush Market"  however that is  guess from looking at a google map. I found a haberdashery with a tiny back room that looked to be an Aladdin's Cave. I bought trim for a slip, ribbon to coordinate with the disco fabric, a button for my new (to me) black boots, and two are three other odd bits.
Lesson #5 Ask for what you need.  They crazy stalls and store in London have things tucked into every nook and cranny.  Take a swatch, take a picture, and ask. They will look at their mental filing system, walk away for a moment and come back with what you wanted. It is amazing.
9th Stop – Another Stall with no name
I asked a stall owner if he had any silk.  He said no, but pointed me to down three stalls, turn right and it is the second stall on the left.  Actually he must much more vague, "go down there, turn right and you'll see it." I discovered a stall selling 100% silk Caftans.  I was looking for a silk night gown with out spending a fortune.  £19 perfect that will work just fine.
Lesson #6 Cash is King in the markets.  Some will take credit cards but will then charge a fee or you will need to walk to a different stall to use their machine. It is best to have cash. Along that same note (Lesson #6b), look for grocery stores to find cash machines that don't charge a processing fee.
10th Stop – A-One Fabrics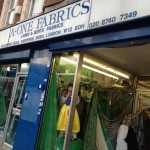 Back out onto Goldhawk Road I venture into another fabric store. Ground level is the fabrics and upstairs in a nice and simple haberdashery (AKA: notions like thread, buttons, needles). I get some Gutterman beads. I didn't know Gutterman made beads. I love their thread so their beads must be good also, right? I go back downstairs.  I am getting weary. They have silk velvet for £15 m.  That is a good price of silk velvet. It is so soft and the colors are beautiful and there is a color that matches my new silk caftan. Hem & Haw, should I, shouldn't I… I've been wanting to make a nice bed jacket for reading in bed. It is a good price, It does go with the caftan and they take credit.  Sold.
Lesson #7 – Remember you want to simplify.  Remember you don't want a whole bunch of projects that will make you feel stressed, even if you do love doing them.  Remember you can come back again if you need to.
11th Stop – Back to Toni Textiles
£10 m silk, like I said, I was weary and I couldn't resist.  Two meters of a lovely silvery silk that looks nice to the silk velvet.
I am tired, weary, thirsty, slight headache (probably because of being thirsty) and I need to pee (the markets are not a great place for toilets). I am heading home.
It was a great Day Out.
---
Categorised as: Uncategorized
---