2020 Writing Review
In 2020 I think I had the best year for writing I've ever had, maybe bar the incredible amount of writing I did between November 2017 and June 2018. Still, I wrote and edited, and wrote some more. In October I got the idea to actually track my writing, all of my writing, not just the writing I published/completed in some form.
This has made an incredible difference.
I've starting to do significantly more editing on my writing before sharing than before. This past year was also the start of a targeted effort of my part to finish my on-going stories before publishing any new multi-chapter stories.
As an effect, while my published word count of the whole year sits around 35,000 words, it's dwarfed by even just my writing word counts for October, November, and December. (In large part because of NaNoWriMo – an event with a 50,000 words in 30 days goal.)
For the purposes of tracking ease, I have decided to treat each month as if it only has 30 days and the months with 31 days have one free days!
---
October
(The key is at the top, but it's a little hard to read so: Yellow is the 'Accumulative Word Count Goal'. Green is the 'Accumulative Word Count'. Grey is the 'Daily Word Count Goal'. Blue iss the 'Daily Word Count'. )
In October I set a goal of 25,000 words in the month as a way to prepare for writing 50,000 words in November. This was helpful as it reminded me of the difference made by a marginal daily effort. Writing even just 100 words (or less!) in a day, is better than nothing. The days without writing built up and by the end of the month I had to spend the last few days on just writing in order to hit my goal.
This was the only month where I used a fluctuating "daily word goal" which I adjusted towards the end of the month to show the much higher required daily words to hit my goal. I ended the month with 25,054 recorded words written.
---
November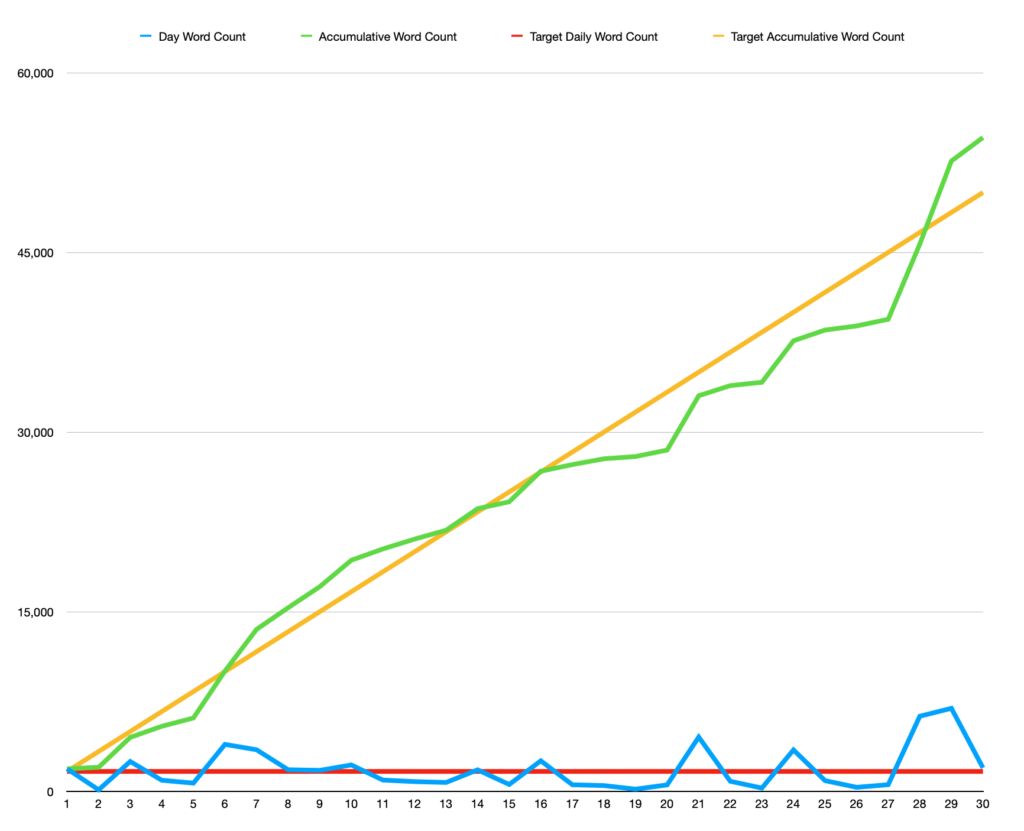 (Most of the colours are the same as October, except for 'daily word count goal', which was shifted to be more prominent. Yellow is the 'Accumulative Word Count Goal'. Green is the 'Accumulative Word Count'. Red is the 'Daily Word Count Goal'. Blue is the 'Daily Word Count'. )
In November I did a much better job of writing daily – I successfully wrote every day of the month, even if it was just a few words. I also kept much closer to my goal accumulative word count. Still, I started to falter around half way through the month and had to do another burst of writing at the end of month. Unlike October and December, all of the writing for November was on a single story, which I have mixed feelings about the result of. I managed to write a total of 54,598 words during November.
---
December
(The colours are different for December. Blue is the 'Accumulative Word Count Goal'. Yellow is the 'Accumulative Word Count'. Green is the 'Daily Word Count Goal'. Red is the 'Daily Word Count'. )
In December I set myself the same goal as October of 25,000 words, but I wanted to experiment with a changing daily word count goal. I started the month with a daily word count goal of 54 words and ended it with 1620 – if I had hit the daily word count goal I would have ended the month with 25,110 words, but I felt that was close enough and I would still count 25,000 words as a success.
On the 18th of December, Eliana was tested for COVID-19. On the 19th she received a positive result, and this was the first day I didn't write at all. I moved to the living room while Eliana was quarantined in our shared room. The whole family stayed at home for 10 days and luckily, no one else developed symptoms. On the 26th, Eliana was released and we celebrated Christmas a day late. Of the six days of the month where I wrote zero words, five of them were during our 10 days of isolation. I also wrote nothing on the 30th (and the free 31st, but again, I'm not tracking that).
Overall, I wrote 12,071 words in December, this time including significantly more non-fiction words as I included some journal entries and the book reviews I published previously. I don't plan on using the escalating word count again in the near future as I found the early days of the month frustrating as the word count goal felt ridiculous, while the end of the month felt overwhelming even though I had written more than 1,620 most days of November.
---
I hope to post more tracking and life content on Me and the Others in the future as I would like to share my life with my loved ones, but feel uncomfortable with sharing on sites like Facebook. Ideally, there will be two more posts a year for 2021's Reading and Writing Reviews!
---
Categorised as: Uncategorized
---