The Illusive Sherlock Holmes
I had hoped to eat chinese food and watch Sherlock Holmes with Jeff and the girls on Christmas Day. I had heard from more than one set of Jewish friends in the states that this is the formula for Christmas Day. I thought it sounded like a good idea. However nearly everything was closed on Christmas Day in London. No Chinese food near us!  No movie theaters! No subway system!
No worries, we'll go see it one evening in France, that would be fun to read the subtitles. Again, my efforts were thwarted. Sherlock doesn't open until Jan 23rd in France.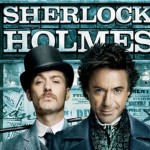 However, Monday, the day after New Years Day it happened. We went to see Sherlock Holmes, A Game of Shadows, at the Marble Arch Odeon theater at 6 pm. We loved the show. I especially liked it because it because it reinforced all the stuff we'd just been to see. There were scenes with Trafalgar Square, where we went with the Lauridsen's a couple weeks ago, The Eiffel Tower, Notre Dame, and references to Gare du Nord. The only place in Paris, that was featured prominently that we missed was the Opera house. We'll have to add that to the wish list for our next trip.
The palace in "Switzerland" at the end of the movie, is fictional, however the waterfall is real. Apparently  Sir Arthur Conan Doyle had been there and it was actually referenced in The Final Problem.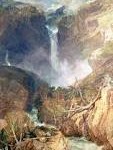 Quote from Wikipedia:
The Reichenbach Falls (Reichenbachfall) are a series of waterfalls on the River Aar near Meiringen in Bern canton in central Switzerland. They have a total drop of 250 m (820 ft). At 90 m (295.2 ft), the Upper Reichenbach Falls is one of the highest cataracts in the Alps. The falls are made accessible by the Reichenbachfall-Bahn funicular railway.
I also discovered I like the artist J.M.W.Turner.  Here is a picture of his of Reichenbach Falls.
Too bad the palace in Switzerland in the movie wasn't real, but the falls look like something to go see if our journey should head in that direction.
Finally, the movie kept referencing Brighton for Watson's honeymoon, when we got on the subway to come home, the advert on the train was for a store in Brighton.  Perhaps we'll have to plan a visit to Brighton, which is in the south of England. Yes, I had to go look it up, I do that a lot.  What did people do before Wikipedia?
I just love when stuff overlaps like that.
Anyway, we enjoyed the movie, but we still haven't had chinese food. Soon, very soon.
Cheers,
    Leanne
---
Categorised as: Uncategorized
---