Oh, what a dinner! Cras, France
When you travel to France you look forward to the food.  So last night did not disappoint.  We went out to dinner, reservations were at 8 pm.
It was festive and fancy, but welcoming and not stuffy.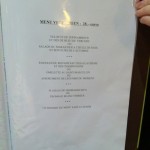 The menu was all in french and unlike the crepe menus I could not figure it out with my remedial French from high school.  Luckily Sandrine helped me navigate.  The meals were three or four courses plus a dessert course.  I choose the three course vegetarian meal.  Thank goodness as I was over full by the second course.  We started with a Walnut Port.  It was lovely.  And appropriate as Walnuts are the main crop of the area along with mushrooms.
Course One-
My Salad was amazing with lots of surprises, the grapes were pickles and packed a powerful punch.  The girls has some with their dinner also and nearly fell out of their chairs but once they got the idea of pickled grapes they enjoyed them more. There was a scooped ball of a glace' which was also very pickely.
Ravioli.  Small tender and delicious. I would have loved to take 1/2 of it home for lunch the next day, but apparently doggy bags are frowned upon.  So what is a girl to do.  I ate it, all of it!
Course Three-
The cheese course.  I choose the homemade white cheese.  Thank goodness! It was light and tasted like a yogurt cheese.  It comes with white sugar to sprinkle on top.  Jeff had chosen a whole different menu, so his pictures will be very different even down to the cheese course.
Dessert Course –
They were offering a sampler plate.  However, the apple tart sounded so good, I went with that and was pleased with my choice however, the doogy bag problem came into play again.  I just could not eat the whole thing.  I wanted to, I really really wanted to, but I could only do about 1/2.  Then came coffee and tea, I just wanted warm water.  This continues to baffle people.  Often I will get tea just to make it easier. But last night I was too full to even have color in my water. 🙂
It is starting to smell really good down stairs, Remi is making something with Potatoes, Onions, Bacon and Cheese.  I'll wonder down to see if I can help 😉
Cheers, Leanne
---
Categorised as: Uncategorized
---