Second day in Paris
We started a bit later today, Wednesday, 28 December 2011.  Cold chance of rain.  To prepare for tomorrow and make Jeff comfortable with our departure, we did a practice run, from the flat to Gare du Nord to Gare de Lyon.  We got our tickets and then with a sigh of relief headed out to see more of Paris than train stations.
Notre Dame was first. Lots of people like the front, but Jeff and I really think the back is far more interesting and impressive.  At the back of Notre Dame was a playground spinny thing, Jeff is holding my umbrella for Eliana so she & Emeline could play while we admired the architecture.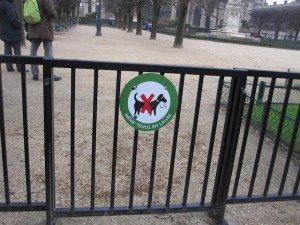 Apparently there are no Goats allowed in the Notre Dame garden.  At least that was Eliana's observation.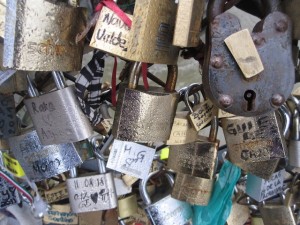 What is all over that fence do you ask?  They are locks with names, initials, and dates. My first thought was how romantic, my second was, I wonder how often they have to cut all these locks off, they must get very heavy.
Crepes in Montparnesse (sp?).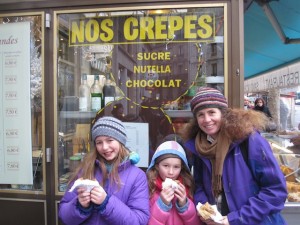 Oh they were sooooooo good.  Eliana had Nutella, Emeline has Chocolate, Jeff had emmethaller (cheese) and I tried the crepe suzette (which has orange zest in the batter, lemon juice and sprinkled sugar on the surface & folded up.  OOOH LAAA LAAA that was yummy.  I could have eaten several more.
And Finally….The Louve to see Mona Lisa.
We navigated a 30 min queue outside to get into the building, then another 30 minute queue to buy tickets, then a queue to get into the wing with Mona Lisa, and substantial crowds along the galleries, until we found this….
A mob of people with cameras raised above their heads to take pictures of the piece of art.  I said, "I think I'll look at it from here," as I'd had enough of lines, crowds etc.  Emeline was not to be deterred and headed off into the crowd.  Eliana, not to be left behind followed suit.  Jeff decided that he could see just fine from the right back side of the gallery, like me.  The girls were gone for about 5 minutes, when Eliana came scurrying back.  "Mom, we need the camera."  I made sure the flash was off and gave it to her.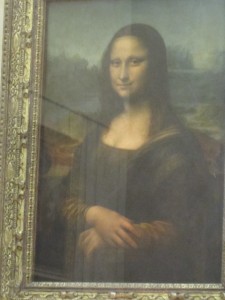 Off she went.  I have no idea how she was about to find Emeline again. They were gone a long time.  At least it felt like a long time to our tired feet.  I tried to amuse myself by reading info. about the nearby painting.  Problem….it was written in French, I was chagrined to think the description would be written in English while in a Parisian Museum, how presumptuous of me.  After a while, Jeff asked, "Where do you think the girls are?" "Up there," I replied.  Shortly after they returned.  Emeline said, "Mom, she really is smiling."   With the Mona Lisa mastered, they were done and ready to go back to our flat in Paris.  On the walk back, Emeline asked, "Is Mona Lisa the most famous (well known) piece of art in the world?"  I said, "I don't  know." So lets take a poll, what do you think? Comment of this post is you have an idea if Mona Lisa is the most Famous, and if not, what piece is?
We ended our day with a lovely dinner party at the flat.  A very nice couple joined us and our very gracious hosts and their guests all spoke English for our benefit.  It was a simple, casual and very enjoyable evening.   We are off to Cras, France tomorrow about 2 hours south east of Paris by train.
It is quite late so I will say , Bonne Nuit, Leanne
---
Categorised as: Uncategorized
---