Lauridsen's in London
The Lauridsen's have come and gone. Their much anticipated visit did not disappoint. Our girls have enjoyed playing with their girls at least once a month for about six years during our monthly wine club get together.
We spent three fabulous days together. The girls were delighted to have friends to play with, as was I.
We went to Kensington Palace, walked through the park and played and the Princess Diana Memorial Children's Playground.
We enjoyed A Thai food lunch of pad thai and veggie spring rolls.
In fact we ate all kinds of international food, none of which was British until the last night when Lynn and I went out to get Fish & Chips at the pub as Take Away. Not as easy as it sounds, as they didn't serve Take Away food, but it all worked out.
I think my favorite day was the ice skating, Tower of London and Wagamama's (noodle house).
We after a busy day of sight seeing the kids were content to hang out for a little bit while we went around the corner for our first pint at the pub.  I am not sure it it is "our" pub yet.  We will need to try a couple more, but the company was great.
Day three was Trafalgar Square, the National Portrait Gallery, the Croc shoe Store, Covent Garden Market, free Coca-Cola samples,  and finished with fish and chips.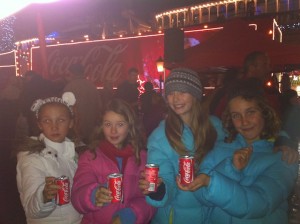 We had such a good time, we hated to see them leave, but wish them a happy holiday and all the best for 2012.  Cheers, Leanne
---
Categorised as: Uncategorized
---